Berlin 30.10. – 02.11.2008
Join MyVisit.to "Launch"
by Stephanie Jünemann, Necla Rüzgar & ULTRA ART FAIR UNLIMITED, PREVIEW BERLIN – The Emerging Art Fair, Berlin Tempelhof Airport, HANGAR2, booth 08, Columbiadamm 10, 12101 Berlin, Opening Reception: Wednesday October 29, 6 p.m. – 10 p.m. (free entrance)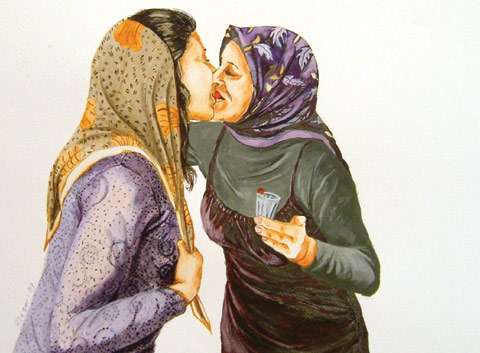 © Necla Rüzgar "Bloody Mary", 2007, watercolor on paper, 29 cm x 36 cm
MyVisit will be launched and online and perform its German art fair premiere on Preview Berlin 2008. Stephanie Jünemann's large-format painting serves as a roof for the parlor ("Another Fairy Tale Vol. 5") of the ULTRA ART FAIR UNLIMITED (Heinz Sandoza, 高鼻子 gāo bízi, Lars from Trier) group, and simultaneously gives cover to the drawings by Ankara-based artist Necla Rüzgar.
Professional Preview: 2 p.m. – 6 p.m. (by invitation only)
Opening hours: Daily 1 p.m. – 8 p.m.