MyVisit.to is the follow-on project of Förderkoje®.
From 1998 to 2005, the Förderkoje® occupied a small space in our private flat. Through the connection of living and exhibiting, a semi-public space came into being with visiting hours instead of opening hours. Not a "wrong" one as in Chelsea NY, but rather a "factoidal" gallery in Berlin Mitte …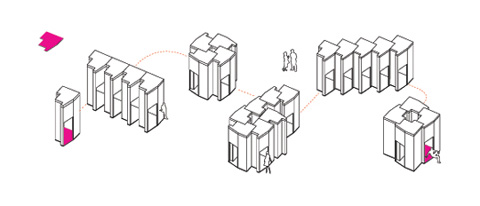 © GBK Architects 2005, idea contest "New building Förderkoje®"
As of March 2006 until February 2008, the Förderkoje® was temporarily be moving into the private homes of individual hosts working out, organizing and promoting a "home visit". Förderkoje® was set up for a limited time. As the 10 year registered protection of the brand name expired, Förderkoje® came to an end on February 29, 2008 at Archenhold Sternwarte in Berlin.