21.11. – 15.12.2013
Join MyVisit.to "UHU"
by Ralf Schmitt, Kunsthalle am Hamburger Platz, Gustav-Adolf-Str. 140, 13086 Berlin, Opening reception: November 19, 2013, 7 pm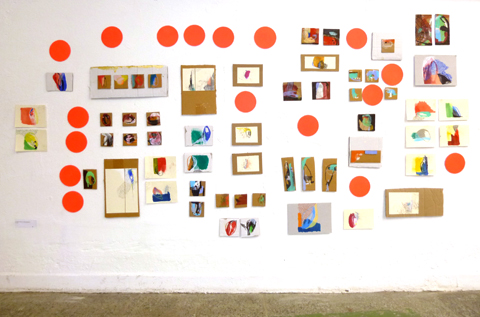 COUNTING RED POINTS
UHU / EAGLE OWL – WHITE BIRD. BIRD OF PREY. RULER OF THE NIGHT. ALL-PURPOSE ADHESIVE. OR: Works Under HUndred Euros **CASH ONLY**
Dear Friends of the KUNSTHALLE,
If you don't have a gift for yourself or your loved ones yet, please visit the Kunsthalle at Hamburger Platz from 19 November to closing time on the third Sunday of Advent, 15 December. Students of the Kunsthochschule Berlin Weißensee, the UDK Berlin, freelance artists, among others in cooperation with five off spaces and Klaus Staeck (Editionen), offer unique works, prints, etchings, photographs, multiples and other current works of art for low-budget buyers, people seeking presents and collectors with a sense of what's special. The proceeds will go directly to the artists. An intellectual and moral change through the purchase of art for newcomers!
We cordially invite you to the opening of the exhibition UHU on Tuesday, 19 November, 2013, at 7 pm in the KUNSTHALLE at Hamburger Platz and to the further events! The exhibition is open from 21 November to 15 December, Tuesdays and Thursdays from 3 to 7 pm, and on the first, second and third Sunday of Advent from 12 to 7 pm.
EVENTS ACCOMPANYING THE EXHIBITION:
Tuesday, 26 November, 2013, 6 – 7 pm:
"MAY ART BE CHEAP ?"
Talk with Julia Brodauf, Jan Gottschalk and Paulina Tsvetanova
Sunday, 1 December, 2013, 4 – 5 pm:
"UHU IN THE MAKING – AN EXHIBITION TOUR WITH ARTISTS" with Silvia Lorenz
Sunday, 8 December, 2013, 1 – 4 pm:
"MIND THE GAP – AFTER PROMOTION IS BEFORE PROMOTION – AN EXCHANGE OF EXPERIENCES"
Event with alumni of the Kunsthochschule Berlin Weißensee.
You can find further information prior to the event at www.kh-berlin.de

Sunday, 8 December, 2013, from 4 pm:
"ADVENT BUFFET AND SALES TALKS" with Thaddäus Hüppi
Thursday, 12 December, 2013, 6 – 7 pm:
"SEE WHAT'S STILL THERE" with Martin Städeli and Tina-Marie Friedrich
Sunday, 15 December 2013, 6 – 7 pm:
"COUNTING RED POINTS" with Ralf Schmitt
psssst…And next year the show for the advanced:
UTA - Works Under ThousAnd Euros on the occasion of BERLIN ART WEEK 2014!
Thaddäus Hüppi in collaboration with Jan Gottschalk, Silvia Lorenz, Martin Städeli, Ralf Schmitt & the KUNSTHALLE Team

Kunsthalle am Hamburger Platz
Gustav-Adolf-Str. 140
13086 Berlin