Berlin 05.12.2009 – 10.01.2010
Join MyVisit.to "Zeigen. An Audio Tour through Berlin"
by Karin Sander, Temporäre Kunsthalle Berlin, Schlossfreiheit 1, Schlossplatz, 10178 Berlin, Opening Reception: Friday December 4, 2009, 9 p.m. (free entrance)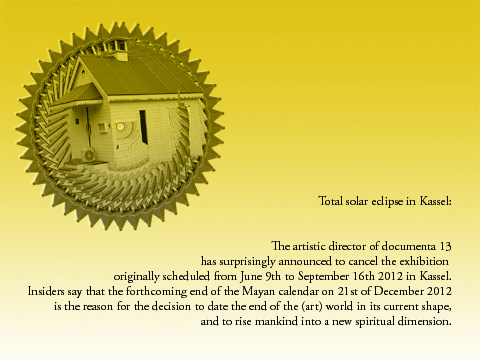 Rumors Mix © Ralf Schmitt
Zeigen. An Audio Tour through Berlin by Karin Sander
December 5, 2009 – January 10, 2010
Opening of the exhibition on December 4, 2009, at 9 pm
In the extensive exhibition Zeigen. An Audio Tour through Berlin, conceptual artist Karin Sander brings together works by 566 Berlin-based artists at Temporäre Kunsthalle Berlin, offering an unusual insight into current artistic production in the city.
The project surprises the visitor with a seemingly empty exhibition space. On the Kunsthalle's white walls - where one would usually find works and descriptive labels - the names of the invited artists are all there is to see. The works themselves remain invisible - at first glance. For Zeigen. An Audio Tour through Berlin, Sander invited fellow artists to translate their own work into an acoustic piece. The very different realizations - performed, sung, spoken, recited - can be accessed individually via an audio guide. Listening on headphones, visitors are offered a new level of perception which leads from the familiar visual approach to artworks towards an auditory, imaginative experience, offering scope for different mental visualizations.
From December 5 open daily from 11 am to 6 pm, Thursdays to 9 pm. Free admission to the exhibition! Public Tours are available on Sundays at 3 pm. The tours are for free and do not require a reservation. Individual tours are available on request at any time. Contact: education@kunsthalle-berlin.com, Tel. +49 (0)30 2576204-13
The exhibition will be accompanied by a publication published by Verlag der Buchhandlung Walther König and a limited edition by Karin Sander.
WITH
Saâdane Afif, Carla Åhlander / Gernot Wieland, Nader Ahriman, Nevin Aladag, Stefan Alber, Erik Alblas, Sonja Alhäuser, Bettina Allamoda, Heather Allen, Pablo Alonso, D-L Alvarez, Matthew Antezzo, John Armleder, Ole Aselmann, Martin Assig, Marius Babias, Mona Babl, Elvira Bach, Florian Bach, Frank Badur, Fritz Balthaus, Heike Baranowsky, Gabriele Basch / Maurice de Martin, Rui Calçada Bastos, Florian Baudrexel, Michael Bause, T.R. Becker, Tjorg Douglas Beer, Birgit Bellmann, Benjamin Bergmann, Christine Berndt, Anne Berning, Michael Beutler, Nicole Bianchet, Gerry Bibby, Marc Bijl, Norbert Bisky, Caroline Bittermann, Kristleifur Björnsson, John Bock, Katinka Bock, Armin Boehm, Hartmut Böhm, Heike Bollig, Monica Bonvicini, Shannon Bool, Susanne Bosch, Pauline Boudry / Renate Lorenz, Daniela Brahm, Marc Brandenburg, Monika Brandmeier, Barbara Breitenfellner, Mari Brellochs, Micha Brendel, Birgit Brenner, Agnieszka Brzezańska, Nine Budde, Matthew Burbidge, BURGHARD, Katarina Burin, Stefanie Bürkle, Susanne Bürner, André Butzer, Pash Buzari, Janet Cardiff / George Bures Miller, Eva Castringius, Libia Castro & Ólafur Ólafsson, Antonio Catelani, Jessica Centner, Paolo Chiasera / Alex Trebo, Helen Cho, Clegg & Guttmann, Kerstin Cmelka, Daniela Comani, Martin Conrads, Martin Conrath / Marion Kreißler, Natalie Czech, Camilla Dahl, Björn Dahlem, Martin Dammann, Mariechen Danz, Paul Darius, Ronald de Bloeme, Michel de Broin, Christine de la Garenne, Jana Debrodt, Christiane Dellbrügge & Ralf de Moll, Dieter Detzner, Frank Diersch, Peter Dittmer, Ursula Döbereiner, Peter Dobroschke, Jason Dodge, Paula Doepfner, Christina Doll, Tatjana Doll, A K Dolven, Johanna Domke, Antje Dorn / Lukas Lonski, Hannah Dougherty, Margarete Dreher, Ruprecht Dreher, Jürgen Drescher, Arnold Dreyblatt, Sven Drühl, Peter Duka, Jimmy Durham, Mikala Dwyer, Bogomir Ecker, Knut Eckstein, Maria Eichhorn, Frauke Eigen, Dörte Eißfeldt, Paul Ekaitz, Nezaket Ekici, Robert Elfgen, Thomas Eller, Elmgreen & Dragset, Slawomir Elsner, Annika Eriksson, Ayşe Erkmen, Esra Ersen, Ueli Etter, EVA & ADELE, Simon Faithfull, Faller / Mieth / Stüssi / Weck, Anna Fasshauer, Valérie Favre, Friederike Feldmann, Peter Fend, Rainer Fetting, Berta Fischer, Nina Fischer & Maroan el Sani, Wolfgang Flad, Ulrike Flaig, Christian Flamm, Jean Pascal Flavien, Thomas Florschuetz & Carla Guagliardi, Carsten Fock, Gunda Förster, Olivier Foulon, Heiner Franzen, Hanna Frenzel, Marten Frerichs, Pia Fries / Hans Brändli, Barbara Frieß, Bernard Frize, Tom Früchtl, Simon Fujiwara, Tine Furler, Taro Furukata, Dani Gal, Heike Gallmeier, Bernhard Garbert, Kati Gausmann, Axel Geis, Stella Geppert, Patrycja German, Torben Giehler, Milena Gierke, Andrew Gilbert, Annette Gödde, Claus Goedicke, Thorsten Goldberg, Undine Goldberg, Erik Göngrich, Delia Gonzalez, Douglas Gordon, Kerstin Gottschalk, Sabine Groß, Katharina Grosse / Michael E. Smith, Lilly Grote, Asta Gröting, Eva Grubinger, Beate Gütschow, Terry Haggerty, Mathew Hale, Hlynur Hallsson, Atalayman Haluk, Friederike Hamann, Sebastian Hammwöhner, Jens Hanke, Elín Hansdóttir, Erla S. Haraldsdottir, Joe Hardesty, Ellen Harvey, Bertram Hasenauer, Christian Hasucha, Mona Hatoum, Tobias Hauser / Hermann Bohlen, Elisabeth Hautmann, Eberhard Havekost, Claire Healy & Sean Cordeiro, Swetlana Heger / Billy Davis, Isabel Heimerdinger, Valeria Heisenberg, Hans Hemmert, Uwe Henneken, Anton Henning, Knut Henrik Henriksen, Arturo Herrera, Swantje Hielscher, Gregor Hildebrandt, Veronike Hinsberg, Moritz Hirsch, Franz Hoefner & Harry Sachs, Christian Hoischen, Karl Holmqvist, Olaf Holzapfel, Alexandra Hopf, Laura Horelli / Anu Pennanen, Ute Hörner & Mathias Antlfinger, Sabine Hornig, Franka Hörnschemeyer, Satch Hoyt, Felix Stephan Huber, Patrick Huber, Nicolai Huch, Markus Huemer, Elvira Hufschmid, Sofia Hultén, Hideaki Idetski, Leiko Ikemura, John Isaacs, Jeroen Jacobs, Dani Jakob, Christian Jankowski, Monika Jarecka, Mona Jas & Holger Friese, Olaf Christopher Jenssen, Sven-Åke Johansson, Rolf Julius, Stephanie Jünemann, Stephan Jung, Lisa Junghanß, Johannes Kahrs, Ilona Kálnoky, Sejla Kameric, Helmut & Johanna Kandl, Eckhard Karnauke, Katharina Karrenberg, Silke Kästner, Veronika Kellndorfer, Isabel Kerkermeier, Iris Kettner, Waszem Khan, Shila Khatami, Thomas Kiesewetter, Dietmar Kirves, Christiane Klatt, Astrid Klein, Gisela Kleinlein, Heike Klussmann, Paco Knöller, Daniel Knorr, Folke Köbberling & Martin Kaltwasser, Andreas Koch, Peter K. Koch, Takehito Koganezawa, Susanne Kohler, Karsten Konrad, Korpys / Löffler, Katarzyna Kozyra, Pauline Kraneis, Ullrich Kraus, Wolfgang Krause, Clemens Krauss, Susanne Kriemann, Käthe Kruse, Christina Kubisch, Coco Kühn, Raimund Kummer, Michael Kunze, Ulrike Kuschel, Susanne Kutter, Alicja Kwade, Marcellvs L., Nick Laessing, Christin Lahr, David Lamelas, Mark Lammert, Pia Lanzinger, Sami Ben Larbi, Tim Lee, Gerda Leopold, Via Lewandowsky, Alexandra Leykauf, Axel Lieber, Deborah Ligorio, María Linares, Ute Lindner, Nikolaus List, Thomas Locher, Wiebke Loeper, Adrian Lohmüller, Susanne Lorenz, Darri Lorenzen, Antonia Low, Robert Lucander, Dieter Lutsch, Ute Mahling, Inge Mahn / Katrin Albrecht / Valentin Hertweck , Antje Majewski, Katrin von Maltzahn, Simone Mangos, Matthias Mansen, Angelika Margull, Rémy Markowitsch, Bernhard Martin, Yvette Mattern, Hans-Jörg Mayer, Matthias Mayer, Christoph Mayer chm. / Andreas Hagelüken u.a., Josephine Meckseper, Jonathan Meese, Birgit Megerle, Sandra Meisel, Bjørn Melhus, Isa Melsheimer, Florian Merkel / Jasmin Schwarz / BEEP OFF, Arwed Messmer, Yves Mettler, Dörte Meyer, Nanne Meyer, Angelika Middendorf, Ricarda Mieth, Boris Mikhailov, Yana Milev, Gerold Miller, John Miller, Igor Mischiyev, Dane Mitchell, Martin Mlecko, Christiane Möbus, Ulrike Mohr, Martin Mohr, Regina Möller, Jonathan Monk, Stephan Mörsch, Sofie Bird Møller, Jan Muche, Christl Mudrak, Wolfgang Müller, Peter Müller, Michael Müller, Matt Mullican, Anca Munteanu-Rimnic, Piotr Nathan, Hajnal Németh, Ursula Neugebauer, Neulant van Exel, Carsten Nicolai, Karina Nimmerfall, Astrid Nippoldt, Ann Noël, Jens Nordmann, Silke Nowak, Hester Oerlemans, Roman Ondak, Aya Onodera, Michael Otto, Amy Patton, Antonio Gonzales Paucar, Manfred Peckl, João Penalva, Manfred Pernice, Sandra Peters, Kristian Petersen, Mario Pfeifer, Katja Pfeiffer, Pfelder, Daniel Pflumm, Andrea Pichl, Katinka Pilscheur, Hermann Pitz, Nina Pohl, Marco Poloni, David Polzin, Sophia Pompéry, Lynn Pook & Julien Clauss, Bettina Pousttchi, Prinz Gholam, Peter Pumpler, Norbert Radermacher, Fritz Rahmann, Alexandra Ranner, Rebecca Raue, raumtaktik, von Borries / Böttger, Haleh Redjaian, Dodi Reifenberg, Inken Reinert, Berthold Reiß, Andreas Reiter Raabe, Thomas Rentmeister, Cornelia Renz / Laura Bruce, Gunter Reski, Mandla Reuter, Reynold Reynolds, Bernd Ribbeck, Tanja Rochelmeyer, Gerwald Rockenschaub, Kirstine Roepstorff, Ursula Rogg, Stefan Römer, Maya Roos, Peter Rösel, Jenny Rosemeyer, Rosen / Wojnar, Aura Rosenberg, Angela Rosenberg, Fried Rosenstock, Roth Stauffenberg, Miguel Rothschild, Steven Rowell, Annette Ruenzler, Egill Sæbjörnsson, Stefan Saffer, Anri Sala, Dean Sameshima, Maike Sander, Yorgos Sapountzis, Yehudit Sasportas, Matt Saunders, Eran Schaerf, Albrecht Schäfer, Sophia Schama, Gerda Scheepers, Jutta Scheiner, Andreas Schimanski, Hanns Schimansky, Cornelia Schleime, Ariel Schlesinger, Sebastiaan Schlicher, Les Schliesser, Gesine Schmauder, Regina Schmeken, Gunna Schmidt, Tomas Schmit, Ralf Schmitt, Gregor Schneider, Albrecht Schnider, Dennis Scholl, Frances Scholz, Eva Maria Schön, Jo Schöpfer, Henrik Schrat, Michael Schultze, Tilo Schulz, Alexandra Schumacher, Veronika Schumacher, Martina Schumacher, Hanna Schwarz, Daniel Seiple, Andreas Sell, Aurelia Sellin, Marcus Sendlinger, Eva Seufert, Catriona Shaw, Amie Siegel, Judith Siegmund, Wiebke Siem, Katharina Sieverding, Markus Sixay, Jim Skuldt, Andreas Slominski, Florian Slotawa, Raaf van der Sman, Christopher Snee, Juliane Solmsdorf, Astrid Sourkova / Markus Selg, Heidi Specker, Thomas Spielmann, Andrea Splisgar, Rainer Splitt, Martin Städeli, Klaus Staeck, Raimar Stange, Tim Stapel, Simon Starling, Julia Staszak /Olaf Mach, Erik Steinbrecher, Bente Stokke, Fiete Stolte, Roland Stratmann, Josef Strau, Jaro Straub, Marlene Streeruwitz, Katja Strunz, Asli Sungu, Shanghay Surbir, Anita Tarnutzer, Vincent Tavenne, Mathilde ter Heijne, Benedikt Terwiel, Stefan Thiel, Mirjam Thomann, Bernhard Thome, Jan Timme, Rirkrit Tiravanija, Wawrzyniec Tokarski, Christian Tonner, Bernd Trasberger, Petra Trenkel, Luca Trevisani, Mette Tronvoll, Sandra Truté, Nasan Tur, Jochen Twelker, Timm Ulrichs, Malte Urbschat, Ignacio Uriarte, Marcel van Eeden, Maria Vedder, Vlado Velkov, Till Velten, Johannes Vogl, Gabriel Vormstein, Gunnar Voss, Simon Wachsmuth, Alexander Wagner, Rolf Walz, Tian Tian Wang, Fu Wang, Ryszard Wasko, Corinne Wasmuht, Suse Weber, Heike Weber, Ina Weber, Clemens von Wedemeyer, Markus Weggenmann, Susanne Weirich, Albert Weis, Ute Weiss Leder, Peter Welz , Tilmann Wendland, Matthias Wermke / Mischa Leinkauf, Maja Weyermann, Suse Wiegand, Claudia Wieser, Eva-Maria Wilde, Berndt Wilde, Stephen Wilks , Barbara Wille, Klaus Winichner, Markus Wirthmann, Anna Witt, Karsten Wittke, Johannes Wohnseifer, Jens Wolf, Alexander Wolff, Ming Wong, Christine Würmell, Florian Wüst, Paola Yacoup, Ekrem Yalcindag, Haegue Yang, Qin Yufen, Simone Zaugg, Holly Zausner, Francis Zeischegg, Georg Zey, Ralf Ziervogel, David Zink Yi, Annett Zinsmeister, Christina Zück, Christof Zwiener