1994 – 2003
Bahnhofsmission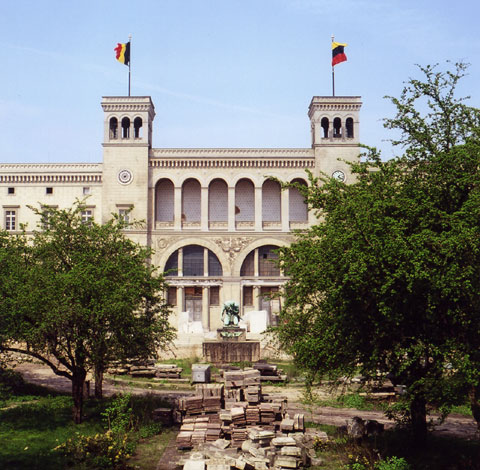 © Ralf Schmitt "Squatting" Berlin 27.04.1995
In the fall of 1994, I visited for the first time the construction site of what had once been Hamburger Bahnhof, which had already closed on October 15, 1884 after just four decades of being used as an actual train station by Berlin-Hamburg Eisenbahn. I had already heard years before of the interesting history of the building, but without knowing the details: from 1884 to 1905 it was used as an office and residential building for railroad workers, and from 1906 to 1943 it housed a transportation and architectural museum. After being partially destroyed in 1943, it was left in hibernation during the British Occupation; held by the Reichsbahn until 1983, ownership was transferred in 1984 to the West Berlin government, and plans were made to reopen the building as a museum of contemporary art. And I read some about the directors: I was also familiar with the title of the exhibition curated by Harald Szeeman, Zeitlos, which took place from June 22–September 25, 1988, and for the first time made the train station known as an exhibition site to an international public. In 1990, the (re)construction of the complex, originally designed by Friedrich Neuhaus, began, resulting in today's Museum für Gegenwart Berlin, built according to plans by architect Josef Paul Kleihues.
Since that first visit I considered myself to be and acted as an unofficial employee working at this building that had so often changed its identity. I began using the construction site as my studio, and continued to do so until the opening of the museum on November 2, 1996. In the words of Félix González-Torres, it was all "just a matter of time."
On April 27,1995 I manifested this "squatting" to the outside world, by installing a fake German flag and the Belgian national flag on the two towers of the building in response to the flagging of the Reichstag. The flags flew for a couple of weeks, and then disappeared. During Christo's wrapping of the Reichstag, my mother came to visit me in Berlin, and I led her to "my" studio: in the conference room of the construction site management, we suddenly found the two flags neatly draped over old coat racks. Later, the Belgian flag disappeared, and I took the German flag and used it for a while as a curtain in my apartment.
For a time, I walked each day in workman's overalls along the Spree from my apartment to my workplace, to participate on site: walking around, looking, talking, actions, installations, objects, etc. This didn't bother my "colleagues" very much, the bricklayers, electricians, floorers, drywallers; on the contrary, some of them drew, painted, or installed themselves. But this was not the case when it came to the various construction site managers: I was evicted from the construction site twice, while I had arrived at an arrangement of sorts with the watchmen and guard dogs. Occasionally, I would also bring guests to my studio…

download .pdf to be continued