2005 – 2013
PREVIEW BERLIN ART FAIR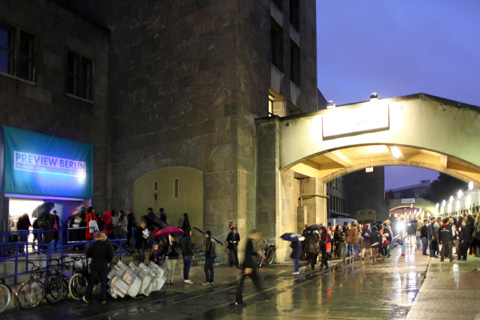 © Preview Berlin 2011
In its ninth year of existence, from 19 – 22 September the PREVIEW BERLIN ART FAIR will present galleries from Berlin and the international art. The art fair will once again play at a fascinating event venue of the city: The former painters' halls of the opera workshop in Zinnowitzer Strasse. Until recently, sets for the major stages of Berlin were created in this central location. Under generous skylights, the international art scene will gather here in large, column-free spaces – an ideal place for the presentation and reception of art.
In addition to the popular white cube booths, the fair will also feature solo walls established for the first time in 2012, allowing young, emerging artists and galleries to show their most promising positions and the latest trends.
With the plug-in FOCUS ACADEMY, PREVIEW BERLIN is also turning to the graduates of art universities. At the moment of transition from university studies to artistic independence, the intention is to give promising young artists the chance to present their works to a wider public of art enthusiasts and specialists and also gain experience on the art market.
Together with the Berlin Hyp, PREVIEW BERLIN will once again honour two artists represented in the show with an art prize.
In 2013, as part of the second Berlin Art Week (17 – 22 September), the art fair will raise the profiles of the individual institutions of contemporary art in Berlin while also positioning and strengthening the heterogeneous art location Berlin internationally. Last year, the PREVIEW BERLIN ART FAIR was one of the initiators of Berlin Art Week, which took place for the first time in cooperation with the exhibition format abc – art berlin contemporary, as well as the most important institutions of contemporary art in Berlin (National Gallery, Society of Friends of the National Gallery, KW, Berlinische Galerie, Neuer Berliner Kunstverein [n.b.k.], Neue Gesellschaft für Bildende Kunst [NGBK] e.V., c/o Berlin, Haus der Kulturen der Welt and Akademie der Künste). With a longer timeframe leading up to this year's Berlin Art Week, Berlin's art landscape can offer an even stronger concentration of appealing events during Berlin Art Week and is expected to attract more visitors interested in art to the capital.
Fair Dates:
Friday, September 20 until Saturday, September 21, 2013, daily 1–8 pm
Sunday, September 22, 2013, 11 a.m. – 6 p.m.
Opening reception:
Thursday, September 19, 2013, 6–10 pm (ticket 5 Euros)
Location:
Opernwerkstätten Berlin
Zinnowitzer Straße 9
10115 Berlin