Berlin 13.09. – 16.09.2012
Join MyVisit.to "Junior Staff"
by Ralf Schmitt, PREVIEW BERLIN ART FAIR, Berlin Tempelhof Airport, Hangar2, booth 25, Columbiadamm 10, 12101 Berlin, Opening Reception: Thursday September 13, 2012, 6 p.m. – 10 p.m. (free entrance)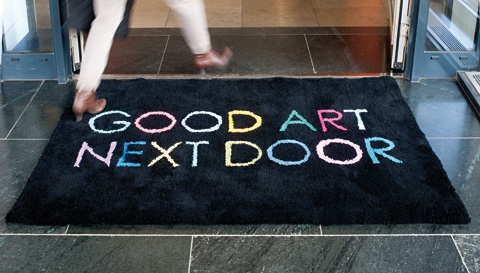 Ekachai Eksaroj 2012, wool, 130 × 180 cm, Photo: Tanja Jürgensen
Developed from the enhancement of Preview Berlin's art fair concept, Focus Academy concentrates on students at the moment of their transition from training to artistic inde- pendence. MyVisit.to presents works by 2 graduates of the Kunsthochschule Kassel, selected at the exam exhibition in July 2012.
Ekachai Eksaroj (*1978)
Ann Schomburg (*1984)
STAFF ART (Stephanie Jünemann, Ralf & Ruben Schmitt)
The clip "ULTRA H. Hacke" by the group ULTRA ART FAIR UNLIMITED has been selected for the PREVIEW VIDEO SCREENING in the Sony Center Berlin at Potsdamer Platz (Tuesday, September 11 until Sunday, September 16, 6 – 8 p.m, once an hour).
Opening Hours:
Friday, September 14 until Sunday, September 16, 2012
daily 1–8 pm
Professional Preview:
Thursday, September 13, 2012
2–6 pm (by invitation only)
Opening Reception:
Thursday, September 13, 2012
6–10 pm (admission free)
Location:
Airport Berlin Tempelhof
Hangar2, booth 25
Columbiadamm 10
D–12101 Berlin