1999 –
Franz.East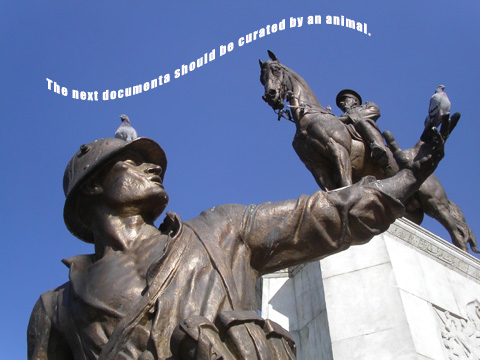 © Ralf Schmitt "Another Monument of the Republic, erected in 1927/2007 in Ulus Square, Ankara, as a symbol of the struggle for independence."
Referring to the work "Paßstücke" ("adaptives") by Austrian artist Franz West the "Franz.East" – trilogy generates an "asianonym" by appropriating, linking and adjusting the artist's name to the present situation.
When I was learning the ancient Art of Chinese Knotting in Taipei for one year in 1999, I realized that the hardest part is not to make the knot, but to adjust it and to move it into the right shape. In this context it was important for me to read in the "Senfkorngarten" - the manual about Chinese Painting from the 17th century - about the secrets of how to paint the bamboo knot; especially the simultaneousness in the Chinese Character of "knot" and "moral" led me to a kind of inversion of Fluxus. Often being asked for my "thesis" and (k)not having one, I decided to use its form.
This form of my thesis was based on a digital transcription - produced for the Bolivian scientist Carmen Beatriz Loza in 2001 - of a handdrawing from 1894 by the German archaeologist Max Uhle showing the three quipus of a shepherd from Cha'lla, Titicaca-Island. It ended in the conclusion that these three knots probably record the interface of the first international floating metro in world history between the boundaries of present Bolivia and Peru. This first part is entitled "Politics of Dada and Data".
But going to Cha'lla on Isla del Sol did knot verify our "metrothesis"; instead of this we heard another voice of conscience: After the former national telephone company ENTEL had held the monopoly over long distance, domestic and international telephony services for a long time, it was privatized by the deregulation of the Bolivian market in November 2001; the global management consultants discussed the new situation and decided to use the knowledge of the scientists, archaeologists, anthropologists, artists, ethnomathematicians etc. They chose a local quipu-knot going to be tied into each public telephone cable of their company all over the country which keeps a low profile in order to make more money out of each call. Therefore a special team of mostly indigenous workers has been trained in crash courses for the ease of assembly since early 2002. They are low-paid and forbidden to talk about their job. This second part is entitled "Docu-Soap".

Finally there is a third part (working title: "Blowjob") which gets currently weaving…Is there a link between the Gordion knot and the ancient Arabian motif of women blowing imprecations into knots which we know from the 113th sura "al-Falaq" of the Qur'an and could it be considered as another form of a "blowjob" which we know and practice in a different connotation today?
Part 1 & 2 of the "Franz.East" – trilogy were published in the Spanish art magazine Atlántica Internacional Revista de las Artes:
"Politics of Dada and Data" in no. 30, 2001, pp. 88-94
"Docu-Soap" in no. 36, 2003, pp. 90-97